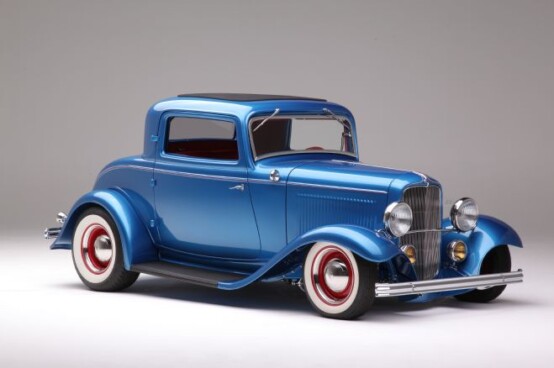 An article recently published on HotRod.com about our 1932 Ford Build:
Most hot rodders can identify with the "car guy" label, but Bill Verboon figures he's been one since he was 8 years old. Raised in the San Joaquin Valley region of California, Bill's family had been farmers before him, and something he spent decades doing himself as well.
He met his future wife, Karen, in February 1958 and, five days after they were married in 1960, bought a 1959 Corvette while technically still on their honeymoon. Taking over the family farm (Gold Top Ranch) while starting and raising a family took most of his time, but Bill never strayed too far from his automotive roots. Through the years he'd own many Corvettes and, by 2000, started restoring them as a business under the Gold Top Restorations handle and simultaneously rewriting the high-level Corvette restoration and customizing business with his meticulous attention to detail and know-how.
Though working for years on Corvettes, Bill also harbored a desire for an older hot rod: a 1932 Ford. In 2005 he bought a body and parts from Rod Bods, but he felt it might take too long to build so, in 2006, he visited the NSRA's Bakersfield event and found a great car for sale: a 1932 Ford coupe roadster powered by a ZZ4. He loved the car and, after deciding to close down the restoration shop and retire in 2006, finally figured he had the time to build one for himself, which he did (a calypso green 1932 highboy roadster with flames).
But in 2012 Bill was diagnosed with cancer, and he thought one of the best ways to take his mind off treatments would be to build another car, so he ordered one of Brookville Roadsters' 1932 coupe bodies along with a full set of fenders. He wanted to build something with a traditional '50s-'60s look, but still have enough power to remind him it's a hot rod.
As it turned out, Bill underestimated the impact the cancer and treatments would have on him, so he turned to a good friend to complete the car. Bill had met Darryl Nance back in 1991 when Bill was looking to purchase a Chevy 210. Nance, who owns and operates D&P Classic Chevys in Huntington Beach, California, has been in the Chevy restoration/hot rod business himself for 30 years, and he and Bill's paths have crossed dozens of times since.
Wanting the timeless look of a '50s hot rod, Bill ordered a new rolling Deuce chassis from Brookville Roadsters as well as one of their all-steel 1932 three-window bodies. Nance's D&P took over the build project and went over the entire assembly with their usual high-level attention to detail. The Currie/Ford 9-inch rearend is equipped with 3.70:1 gears, Traction-Lok, Currie axles, and a diagonal four-link system. The front suspension is comprised of an I-beam axle, a multi-leaf spring, and a set of chromed hairpins.
Bilstein coilover shocks smooth out the ride while Wilwood disc brakes front and rear bring everything to a swift halt. The Midland Power brake booster is mounted to the chassis, but the master cylinder is mounted behind the dash. Steering is taken care of through a Vega box connected to an ididit tilt column and a Billet Specialties wheel. Road wheels are 15-inch steelies from US Steel, wrapped in BFGoodrich whitewalls and topped with caps 'n' rings.
Through the many years Bill has had all sorts of engines in his rides, from quarter-miler racers to factory V-8s and, with this coupe, he wanted a certain peace of mind that only a factory crate engine can provide. So he went with a Chevrolet Performance crate LS3 376-inch fuel injected motor. Backed to a Tremec five-speed transmission fitted with a one-off shifter, the engine was only slightly modified with custom pieces from D&P, such as the valve covers, intake manifold, air cleaner, though Doug's Headers and MagnaFlow mufflers were used with the D&P-made exhaust system. A single Maradyne fan helps keep the heavy-duty copper radiator running cool and a Vintage Air climate control system keep Bill and Karen cool inside the coupe.
Shipped in bare metal, the three-window also arrived with a factory-type louvered hood, a filled Deuce grille shell, and a full set of fenders. D&P also added an underdash piece to the 1932 roadster-type dash, adding A/C vents to the top dash piece and its controls to the lower piece. After completing the requisite bodywork and prep, D&P sprayed the body, parts, and pieces a PPG Envirobase Intense Blue, which just glows in the sunlight. And that's quite all right with Bill, who describes himself as "an Easter Egg kind of guy" when it comes to color choices for his rides.
After paint the body was shipped to Armando Auto Upholstery in San Jacinto, California, for a lipstick red–pleated leather interior that covers the Wise Guys bench seat, custom door panels, and headliner. The same red loop carpet used inside the coupe was also used in the trunk area.
Centered in the custom dash is a cluster of five Classic Instrument gauges and nothing else, as the Kicker stereo, HiFonics amplifiers, and Infinity speakers are well hidden, along with the wiring from the American Autowire harness installed by D&P. Outside, the front and rear 1932-type bumpers from Brookville were added, along with a set of cowllights, dropped headlight bar, chrome headlights, dual foglights, and bull trim with the Ford script for the radiator shell. And, after Anaheim's VanDemon applied pinstriping to the belt line, gas tank, and decklid, the car was finally complete.
After his cancer diagnosis in 2012, Bill thought building a car would take his mind off his treatments and, say what you will, it might have worked. Bill, who makes his home in Lake Havasu City, Arizona, beat the cancer last year, and has a new perspective on life. It includes driving the wheels off his new coupe, which debuted at the 2015 Grand National Roadster Show and has since been driven around the Goodguys Del Mar show and up the California coast at the annual Pismo Beach run. Having himself always been a driven individual, Bill can now also add "survivor" to his long list of accomplishments.
Tags: 1932 ford, Hot Rod