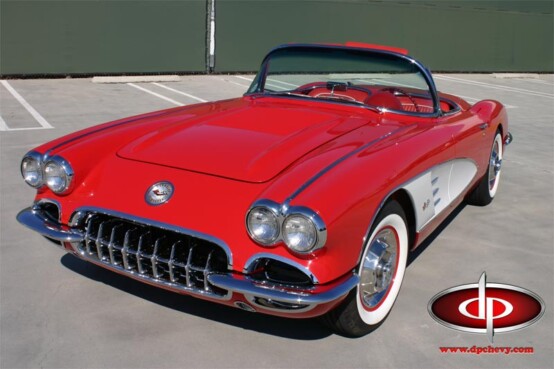 1958 Chevy Corvette
GM Performance LS3 Powered, Paul Newman Chassis
The Chevy Corvette has always been America's sports car. Over the last several decades I've owned a bunch of em. We still own our 1962 vette that we bought in the 70's from the original owner.  At our shop we've built a lot of Corvettes and I've driven almost every model including the new ZR1. As a loyal GM owner I must admit that the new Vettes definitely drive light years better than the vintage models. Those of us that build and drive classic cars understand the benefits of a modernized classic car. If you have any doubts go out and drive a stock classic and then go drive one that's been updated.
D&P was recently asked to finish a Steve and Kate's 1958 Vette that was started at another shop. I suggested to Steve the owner that he would thoroughly enjoy the performance of a new GM Performance LS3 crate engine. A new GM 4L65E 4 speed automatic transmission was also installed. D&P installed a March Performance pulley system along with Street and Performance headers. The chassis was re-engineered with C4 Corvette suspension front and rear to give this early straight axle a much improved ride and handling characteristics.
After completely straightening the body D&P painted Steve & Kate's Vette with PPG base coat/clear coat red and white paint. Many of the trim items were purchased from Eckler's. A Vintage Air A/C kit was installed for creature comfort. This 58 is somewhat rare as it has a factory power top. The interior and dash were upgraded with leather that matched the factory style. Steve and Kate wanted a "factory look" and from the exterior the new 58 looks completely stock.  This beautiful old Vette is far from stock and a good push on the go pedal and you quickly realize what 430 horsepower feels like. The Vette not only flies, but it handles like a modern sports car and has good manners and all the dependability we expect from modern cars. We appreciate Steve & Kate taking their prized Corvette to a whole new level.
Tags: 4L65e transmission, 58 corvette, C4 Corvette, Chevrolet Performance, Ecklers, gm performance, LS3 crate engine, March Performance, PPG Paint, Resto Mod, Street and Performance