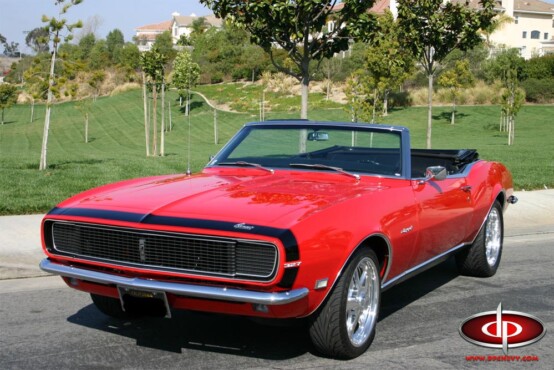 1968 Chevy Rally Sport Camaro Convertible
100% Original
Several years ago local Chevy enthusiasts Bob & Cathi came to D&P to have Bob's 1955 Chevy Nomad completely restored. Bob's Nomad was fully restored by D&P, but that's another story. Cathi told Darryl @ D&P that her first car was a 1968 Camaro and she always wanted to find another one so she asked Darryl to help her find one. After a brief search Darryl found a possible car that had been in storage for many years.
After inspection Darryl found that the  rare 68 R/S Camaro convertible was not only in great original shape, but it had rare options including factory air conditioning, power windows, power disc brakes, power steering, and a power top. D&P was asked to perform a complete restoration of this beautiful Camaro.
Most of the original components were restored with an upgrade of a new GM Performance 350 Cubic Inch crate engine. A show quality base coat paint job was performed on this great first gen Camaro. Since completion Cathi has driven her "first car" to numerous shows and won numerous awards. Cathi drives her Camaro on a regular basis and is quick to point out that it's her Camaro to anyone who asks.
Tags: 1968 Chevy Camaro, Classic Industries, convertible Camaro, first generation Camaro, gm performance, rally sport, Resto Mod, restoration