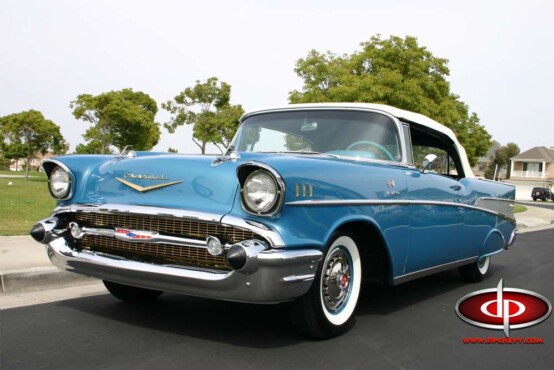 1957 Chevy Belair Convertible Hand Built by D&P
How many of you have found an old car somewhere that you tried to buy from the owner? Well I'm a member of that club like many other gearheads. I'll try and be brief but this is a story about a 57 Chevy that falls under the "cars with a family history". Some 30 years ago (before D&P was in business) I was in a local neighborhood and I saw a dusty blue 57 Chevy convertible resting inside a garage. I had been in this neighborhood many times before but I had never seen the garage open where the 57 Chevy was located. I stopped and spoke to the owner about the treasure in his garage. I hinted that I would be interested in buying the car if he was interested in selling it.
The owner "Jim" told me that his dad had bought him the car in the late 50's when he was in high school. Jim said he drove the car for many years but the 57 finally got to the point that it needed a complete restoration and he decided to store it until he had the time to get it restored.  Jim was very cordial and allowed me to look over his family jewell. I quickly noticed that the 57 had the factory Rochester fuel injection on it. Jim told me that he had purchased the fuel injection components new from the Chevy dealer when the car was only a few years old, probably back in the 60's and installed it on the 57.
After visiting with Jim and checking out his 57 I thanked Jim for his time and left. I often wondered about the car over the years but never saw the car again not knowing if Jim still had the car. Fast forward some 25 years.  While working at our family business (D&P Classic Chevy)  I received a call from a gentleman stating he owned a 1957 Chevy that he wanted to restore.  After a short conversation it became obvious that this was the same 57 Chevy I had found some 25 years earlier. How ironic is that?
Jim the owner eventually came to the shop and we put a build plan together for his 57. I sent my crew to Jim's house which is just a few miles from our shop to pick up the classic. The plan was to complete a complete body-off the frame restoration back to factory specifications. Like any old car the old 57 had some "issues" but they were minor. Over the period of the next year we completed the restoration.
The 57 has a number of options including a factory continental kit, vacuum ash trey, and much more. As you can see in the photos the 57 was restored to show condition. Jim and his wife Sherill were great to work with and the 57 is now back home in the same garage where I first found it some 30 years ago. I feel fortunate to tell this unique story about a family and their history with a their classic car.          Darryl
Tags: 1957 Chevy Belair convertible, 283, 4 barrel, barn find, blue 57, classic chevy, Danchuk, frame-off restoration, fuel injected, original, PPG Paint, shoe box, tri-five